Uguale lactose-free with vegetable rennet
Minimum maturation 9 months
We believe that good cheese is everyone's right. Mantuanella Uguale Verde is a cheese with lactose-free vegetable rennet, with a minimum maturation of 9 months, it is conceived in compliance with the vegetarian philosophy, from the production process to the finished product. A cheese with a light and delicate taste.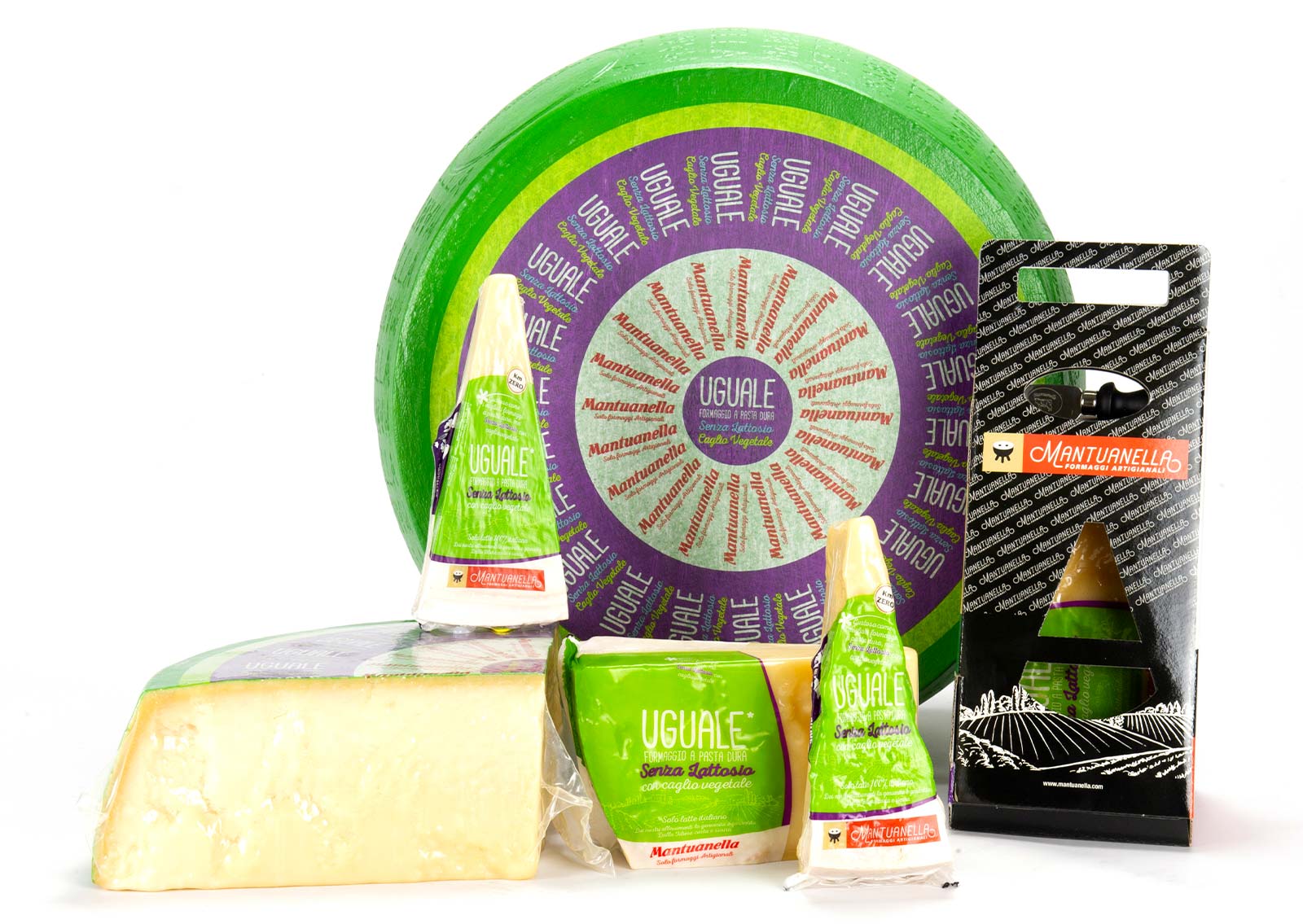 High digestibility
Certified vegetable rennet
9 months maturation
Ingredients
Ingredients: 100% Italian partially skimmed cow's milk, vegetable rennet, salt, lysozyme (natural egg protein), surface treated with E120.

Allergens: eggs, milk and derivatives.
Technical information
Storage and conservation: maturing in the warehouse at a temperature from 14 ° to 22 ° C. Relative humidity between 75 and 95% storage temperature at 8 ° C.

Duration - days of product life: The optimal period for consumption is from 9 months of seasoning onwards, in the case of vacuum-packed product duration / shelf life 180 days minimum remaining expiry on delivery 160 days.

Transportation method: product on EPAL pallets. Transport by refrigerated vehicle according to the requirements of Reg. CE 852, 853 of 2004 or in any case at a temperature not exceeding 8 ° C. According to HACCP method and Product Disciplinary under the control of the ATS-Valpadana sector of Mantua and Ente Terzo. 
Product suitable for lactose intolerants, highly digestible food for tolerants of large consumption. Product suitable for vegetarians.
Nutritional claims
Nutritional values For 100g of product
Energy 1600 Kj / 390 Kcal
Fats 30 g

of which saturated fatty acids

20 g

Carbohydrates 0 g

of which sugar

0 g

Proteins 26,5 g
Salt 1,45 g
Humidity 32,9
Ashes 4,63
Chlorides (as Na Cl) 1,6
Available formats

Whole Wheel 34/36 kg

1/8 of a wheel vacuum-packed

1 kg vacuum-packed

250/300 gr vacuum-packed

500 gr vacuum-packed