Mantuanella Classico
Minimum maturation 9 months
Our most classic cheese with a minimum maturation of 9 months. The Mantuanella of all time, an authentic and unique taste that smells of our fields.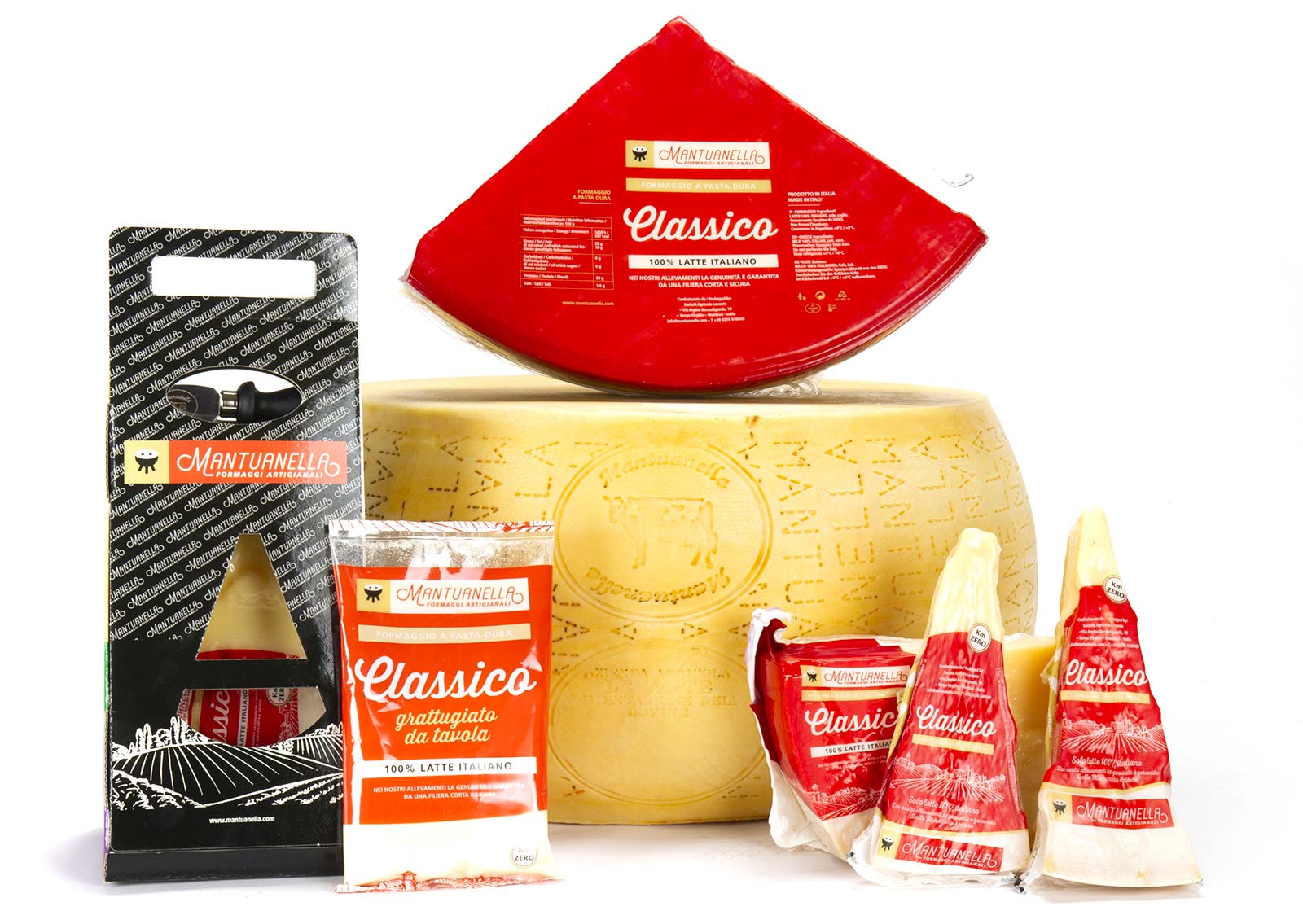 Authentic taste
Intense aroma
Minimum maturation 9 months
Ingredients
Ingredients: 100% Italian partially skimmed cow's milk, calf rennet, salt, lysozyme of animal origin (natural egg protein).

Allergens: eggs, milk and derivatives, including lactose.
Technical information
Storage and conservation: maturing in the warehouse at a temperature from 14 ° to 22 ° C. Relative humidity between 75 and 95% storage temperature at 8 ° C.

Duration - days of product life: The optimal period of consumption of this product goes from 9 months of seasoning onwards, in the case of vacuum-packed product duration / shelf life 180 days minimum remaining expiry on delivery 160 days.

Transportation method: product on EPAL pallets. Transport by refrigerated vehicle according to the requirements of Reg. CE 852, 853 of 2004 or in any case at a temperature not exceeding 8 ° C. According to HACCP method and Product Disciplinary under the control of the ATS-Valpadana sector of Mantua and Ente Terzo.
Consumer product and not intended for special categories of consumers.
Nutritional claims
Nutritional values For 100g of product
Energy 1650 Kj / 397 Kcal
Fats 28 g

of which saturated fatty acids

18 g

Carbohydrates 0 g

of which sugar

0 g

Proteins 32 g
Salt 1,6 g
Humidity 32,8
Ashes 5,25
Chlorides (as Na Cl) 1,6
Available formats

Whole Wheel 34/36 kg

1/8 of a wheel vacuum-packed

1 kg vacuum-packed

500 gr vacuum-packed

300 gr vacuum-packed

Fresh grated - 100 gr