Riserva Bianca
Minimum maturation 24 months
Our most representative cheese, Mantuanella Riserva Bianca is the highest expression of our production; a long minimum maturation of 24 months to create the unique flavor of Mantuanella cheeses. The structure is finely grainy with a radial flake shape, the color starts from white to caramelized, according to the curing time with increasing accentuation of the holes.

The cheese crust has a thickness ranging from 4 to 8 mm and can be colored with specific certified products for food products: PARAFLUID BIANCO MTW 8064 with preservative E235.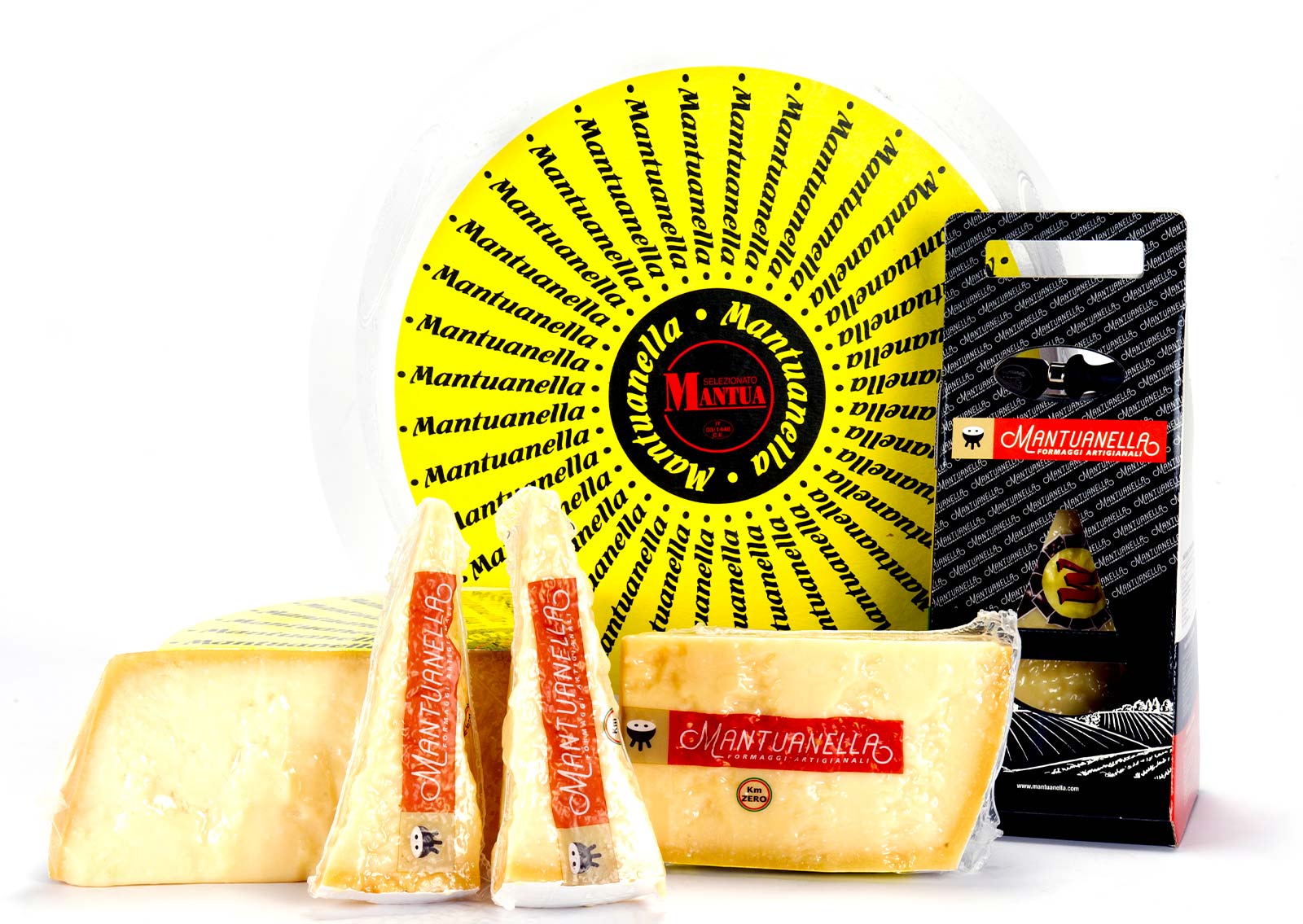 Taste and flavor
Slow maturation
Minimum maturation 24 months
Ingredients
Ingredients: 100% Italian partially skimmed cow's milk, calf rennet, salt, lysozyme of animal origin (natural egg protein), surface treated with E203.

Allergens: eggs, milk and derivatives, including lactose.
Technical information
Storage and conservation: maturing in the warehouse at a temperature from 14 ° to 22 ° C. Relative humidity between 75 and 95% storage temperature at 8 ° C.

Duration - days of product life: The optimal period for the consumption of this product goes from 24 months of seasoning onwards, in the case of vacuum-packed product duration / shelf life 180 days minimum remaining expiry on delivery 160 days.

Transportation method: product on EPAL pallets. Transport by refrigerated vehicle according to the requirements of Reg. CE 852, 853 of 2004 or in any case at a temperature not exceeding 8 ° C. According to HACCP method and Product Disciplinary under the control of the ATS-Valpadana sector of Mantua and Ente Terzo. 
Product suitable for lactose intolerant, highly digestible food for tolerant of large consumption.
Nutritional claims
Nutritional values For 100g of product
Energy 1600 Kj / 390 Kcal
Fats 29 g

of which saturated fatty acids

18 g

Carbohydrates 0 g

of which sugar

0 g

Proteins 28 g
Salt 1,62 g
Humidity 28,57
Ashes 4,03
Chlorides (as Na Cl) 1,8
Available formats

Whole Wheel 34/36 kg

1/8 of a wheel vacuum-packed

1 kg vacuum-packed

500 gr vacuum-packed

250/300 gr vacuum-packed